Exploring Veeam's Windows Agent
Years ago I worked at Symbian software (later to be taken over and destroyed by Nokia and Microsoft but that's a story for another time), there I deployed Connected Data protector which was an amazing (if expensive) tool for doing backups of users desktops and laptops on demand. It was a very clever little tool and for some years it was the only one that did what it did. I believe that the company was bought out by HP some years back and the tool seems to have vanished.
Veeam stepped up to fill that gap with the Veeam Agent for windows (formally Veeam Endpoint).
This little app has been designed to primarily back up desktops and laptops to a central repository but can also be used to backup physical servers where the usual Veeam Backup and Recovery Suite can't do much. It has scheduling built in to allow for regular backups as well as "backup when on network" type of scenarios - handy for travelling sales types.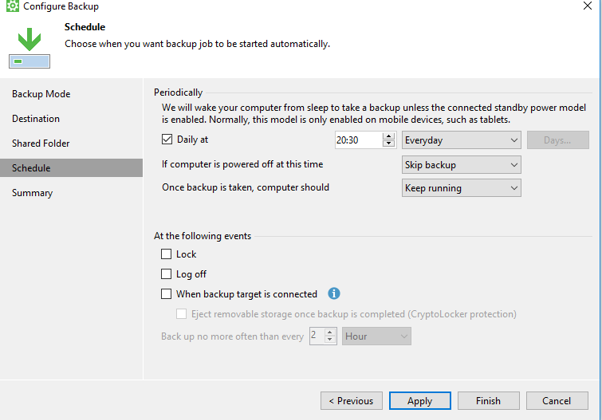 I've been using the agent on my work laptop and home PC because like many others, I've suffered a disk failure in the past and lost data. These days I put all of my important data into an owncloud folder so at least I have that synced to a couple of locations and the cloud but what I really needed was something that would recover the machine to the previous state, simply, quickly and with minimum fuss. I also need it to be "fire and forget" and to be free because I'm cheap and it's for home.
The only thing that connected could do that the veeam agent cannot is to skip certain files and folders. For example, with the veeam agent, if you tell it to backup the entire laptop it'll backup the entire laptop minus things like the pagefile but I cannot tell it to skip a folder called "private" for example and nor does it take into account other veeam agent backups as each backup is its own set of data.
As an example of backup sizes that I'm seeing, the work laptop takes up 63.9 GB and the home desktop takes up 577 GB. This gives me 14 restore points and the ability to fully recover in the event of a major problem.
You can create the recovery media during the initial setup or you can do it later thanks to the veeam.endpoing.recoverymedia.exe file in the install folder (normally c:\program files\veeam\endpoint backup
The first backup will always be the largest and really should be run on ethernet.
And once setup, with a schedule set, that's it. The backup just sits there and runs quite unobtrusively in the background.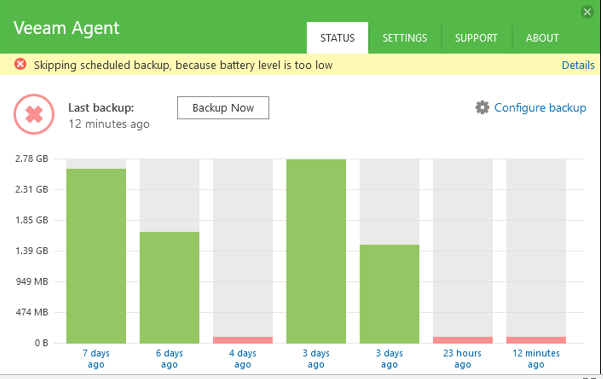 The missed window 23 hours ago are because the laptop was off and the one 12 minutes ago are because the laptop wasn't on the network. It is possible to change the configuration to retry the backup when there is a network connection but each time I've tried I've been off the network and so the agent spits an error at me:

It would be nice to be able to edit the schedule of the task without needing to be online. One thing I've not tried and will look into in more detail is pushing out the Veeam agent settings using a Group Policy as that'll make things a lot easier in terms of setting the schedule for a group of users.
Overall, the veeam agent is a really nice piece of software. It's also free which is always an awesome price point and it's pretty simple to use. Very much another win for Veeam.
Subscribe to Ramblings of a Sysadmin
Get the latest posts delivered right to your inbox