RVTools seems to have fallen by the wayside in recent years, which is a huge shame, as it is still an amazing product that deserves more attention that it currently gets.
I still recommend it to people on various forums and get a shocked "Does that still exist?" response and yes it does and it is even better than it used to be plus it has been kept updated so that it works with the latest and greatest VMware versions.
If you are reading this and thinking "what is RVTools?" then let me enlighten you – it is the reporting tool for VMWare that should have been included in VMWare as a reporting app years ago.
What RVtools does is quite simple but incredibly handy, it looks at your vcentre and/or ESXi hosts and reports the status of them as well as any issues.
Do you want to know what VM's have snapshots? Look in RVTools.
Want to disconnect all the virtual CD-Rom's because vmotion is throwing a fit? RVtools can do it.
Are you running low on storage? Maybe you have zombie VMDK's – Rvtools will find those as well.
RVTools can be downloaded from https://www.robware.net/rvtools/download/
It does require registration to access and once registered the MSI will download. Once installed you can find it under %homedrive%\Program Files (x86)\Robware\RVTools, simply run the rvrools.exe file and point it at either a vcentre server or an ESXi host and wait for it to gather the data and present it in a report.
Depending on the size of the estate it could be a few seconds to some minutes.
I ran it over my home lab not expecting to see much and was surprised by the amount of zombie VMDK's I've got which is the result of a power cut sometime back that lead to some problems with VCentre that required a restore (thanks Veeam!)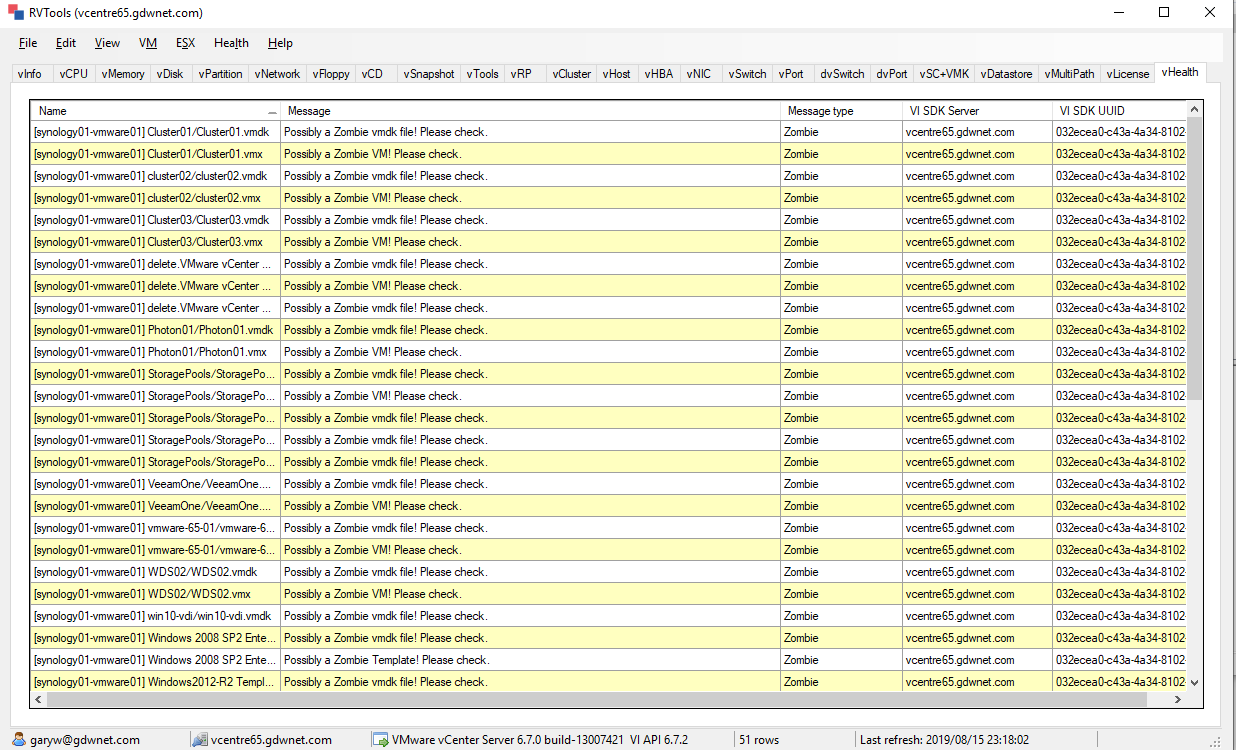 RVtools also told me that I need to be a bit better with snapshots as the ones I h ave on my system are a little out old.
So clearly some clear up work for me to do, in a larger environment RVTools will certainly find something that can be fixed to help improvement the VMWare estate, it's certainly a handy app that deserves to be in your toolkit.
Subscribe to Ramblings of a Sysadmin
Get the latest posts delivered right to your inbox